James Rogers Collection on Flashdrive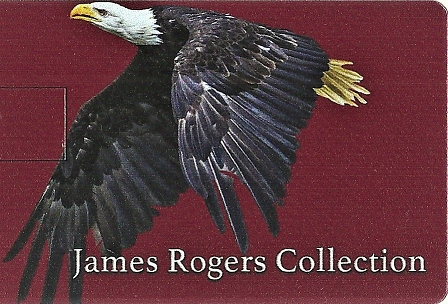 Hello Friends Of Mine
I am so happy to annouce that I have completed a project that had been interupted by Covid 19. Now I am ready to make it available to any who might want it.
What is it?
It is a digitized flashdrive that contains all of my original (audio) songs along with rare video performances of many of the songs that you have selected over the years as
favorites. There are many rare television appearances from the Nashville Network
proceding forward in time to the 4th of July Television broadcast of my
performance with the Knoxville Symphony… it has live clips from Music Mansion but also includes some of my one man shows in the Heartsong Theater and more….much more.
Many new vehicles today are equiped with a USB port for playing audio. This flash drive will work in this format, but of course it will work on your computer for you to download or just simply to use like a "jukebox"… and play one song after another. The videos will work on your computer and if you wish you can create a disc for playing in a DVD player. It is a tremendous amount of material spanning almost my entire career.
Below I will give more details:
Audio Songs
1. A Year Ago
2. Rhythm Of The Rails
3. Moon On The Water
4. Country Boy Again
5. Talking To The Wind
6. Hezekiah
7. Leland Poteet
8. Twelve String Summer Morning
9. A Thousand Days
10. On The Road Again
11. Fly Eagle Fly (1974 version)
12. Tennessee
13. A Thing Called Love
14. After All
15. Someone Someday
16. Roulette Wheel
17. Twenty Five Miles Away From Home
18. Beginner's Luck
19. Darkness To Light
20. Coming Home To You
21. Summertime Love
22. Dream Song
23. The Blue And The Gray
24. You And Country Music
25. Black Hearted Lady
26. Everything To Me
27. I Want To Make Love To You Tonight
28. Homecoming
29. I Will Always Love You
30. Cold Ohio Rain
31. Grandma Bernies Homemade Shine
32. I'm Not Dreaming At All
33. Nobody's Fool
34. Forever Amber
35. This Is America
36. Something's Got A Hold On Me
37. Her Own Kind Of Woman
38. Five Strang Banjo Thang
39. Rock N Roll's Back Tonight
40. The Good Guys Girl
41. For You
42. Happy Being Me
43. I Like Girls
44. Reaching For The Stars
45. Crazy To Be Crazy
46. Oh Baby Havin' Too Much Fun
47. Lovin' Times
48. Papaw
49. Fly Eagle Fly
50. Save The Eagle
51. You My Friend
52. The Lonesome Troubadour
53. Silver Saddles In The Sun
54. Dream
55. Riverbend Theme Song
56. I Guard America
57. Legends And Friends
58. Blue Is The Night
59. Someday We'll Understand
60. You're The Only One For Me
61. Let Freedom Ring
62. You
63. Believe In You
64. Hearts Are Glass
65. Dear Child (Daddy's Little Girl)
66. Mystery Ballerina
67. That Feeling Again
68. Only This I know
69. Mechanical Boy
70. One Day
71. Somewhere In Time
72. It Breaks My Heart
73. Cancun
74. Find The Way (Alzheimer's Theme Song)
75. When I Was 16
76. Seasons
77. I Want To Go Back To Mexico
78. Merry Christmas USA
79. The Little Shop Sign
80. If I Gave My Heart To You
81. Eire (Dreams Of Ireland)
82. Sometimes Dreams Come True
83. Love Is The Wind
84. Just Me
85. The Werewolf Song
86. Me And My Guitar
87. Smoky Mountain Home
88. Hero In My Eyes
89. Stand Tall America
90. It's Happy Christmas Time
91. Where Eagles Fly
92. My Old Friend
93. Never Forget It
94. Heaven Is Smiling On Me
95. My Heart Beats There Too
96. Ghosts Of Chickamauga
97. Class Of 67
98. Kiss For Christmas
99. Brand New Day
100. When Challenger Flies
101. Everything Is Gonna Be Alright
102. Life Goes On
103. Ole Shanghai
104. Once Upon A Magic Time
105. C R Rufflemitts
106. Hello Summer
107. Stormy Night
108. Fallen Angel
109. The Lord Takes Care Of His Own
110. Eagle Medley
111. As Long As You Believe
112. Colorado Moon
113. Once Upon A Time America (acoustic)
114. A Song For Momma
115. Jolly Ska Doodle I Day
116. Born To Be
117. The Wisdom Years
118. Fellow
119. Song For Norway
120. Daddy's Little Girl
121. Hearts Are Glass
122. Mountain Dan
123. Moonlight, Romance, And Roses
124. In The USA
125. Once Upon A Time America (orchestrated)
126. Beyond The Call ( with Dolly Parton & the Voices Of Lee)
127. Child Of My Child
128. Fly Eagle Fly (with Voices Of Lee Choir)
129. Grandma Bernies Homemade Shine
130. Hero In My Eyes (ballad)
131. I Guard America (with Voices Of Lee Choir)
132. If Lovin' You Is Crazy
133. That's The Way Love Goes
134. Warriors Walk
135. When I Was A Younger Man
136. Where The Winds Blow Free
This is the most complete collection of all of my songs that has ever existed.
This flashdrive has music that has never been available before. Previously there was a box set that included 11 cds and 2 dvds, but the box set is no longer
available. This flashdrive contains much more than was available in the box set
and yet it is about the size of a business card.
When I first started recording back in the 70's, music was still being
manufactured on vinyl …and yes when Fly Eagle Fly was released on Capitol
Records it was on a 45. Times have changed a lot since then, but music in any
form still means so much to us. I am so proud that I have this to offer you in this new format.
God Bless and Fly Eagle Fly
<><><><><><><><><>
<><><><><><><><><>
Click link below to purchase:
Go To James Rogers Website to Purchase this product.